The college sport mascot carries a number of important responsibilities.
From rousing the crowd to intimidating opponents, the person in the costume is working every single second of the game. From Stanford's Christmas tree to TCU's superhero frog, the range of college mascots is incredible.
Although the costumed mascots are great, there is something about a live mascot that captures school spirit in an incredible way. Schools all around the country have used live mascots for years, and many continue to do so today. This is our countdown of the best seven live mascots in college sports history.
7. Smokey from Tennessee University
Representing the Tennessee Volunteers is Smokey, a Bluetick Coonhound. Currently on its ninth dog, Tennessee University has been led by Smokey for more than 60 years. When Tennessee University was deciding on its live mascot in 1953, it was clear a normal dog wouldn't do; a true Tennessee native was needed. A local reverend entered his coonhound "Brooks' Blue Smokey" in the contest, and he won in a landslide.
Smokey has a long history with the Volunteers. In 1955, Smokey was kidnapped by Kentucky students. Then there was Smokey VI. According to the Volunteers' website, "Smokey VI, who suffered heat exhaustion in the 140-degree temperatures at the 1991 UCLA game, was listed on the Vols injury report until he returned later in the season."
6. Uga from the University of Georgia
A delightfully wrinkly and squat bulldog in a red jersey, Uga is the official mascot of the University of Georgia Bulldogs and its athletic teams. Since 1956, Uga has represented the Bulldogs and attended football games. Uga's reign on campus began with Uga I, who served from 1956 to 1966. He was known as "Hood's Ole Dan," and his career as mascot set the example for all of his descendants to follow in his footsteps. Every Uga since the beginning has been a part of Uga I's lineage.
Uga X, the current Uga, also named "Que," was introduced in 2015. He took over from Uga IX, "Mike," in an official "Changing of the Collar" ceremony performed by the university's president.
5. Bevo from the University of Texas
Bevo is about as Texas as can be. A burnt orange Texas Longhorn, Bevo perfectly personifies the Longhorn's school. The University of Texas is represented by its 15th Bevo, the latest Longhorn in a mascot tradition dating back 100 years. Bevo attends every home football game for UT, and has even made some special appearances at events like both of George W. Bush's inaugurations.
The first few Bevos were a lively bunch. According to sports author Floyd Connor, "The second Bevo charged a (Southern Methodist University) cheerleader, who managed to fend him off with a megaphone. Bevo III escaped from his pen and terrorized the Texas campus. Bevo IV attacked a parked car. The next Bevo broke loose and scattered the Baylor band."
UT's latest Longhorn was Bevo XIV, who retired in late 2015 due to a leukemia diagnosis. He died shortly afterward.
4. Mike the Tiger from Louisiana State University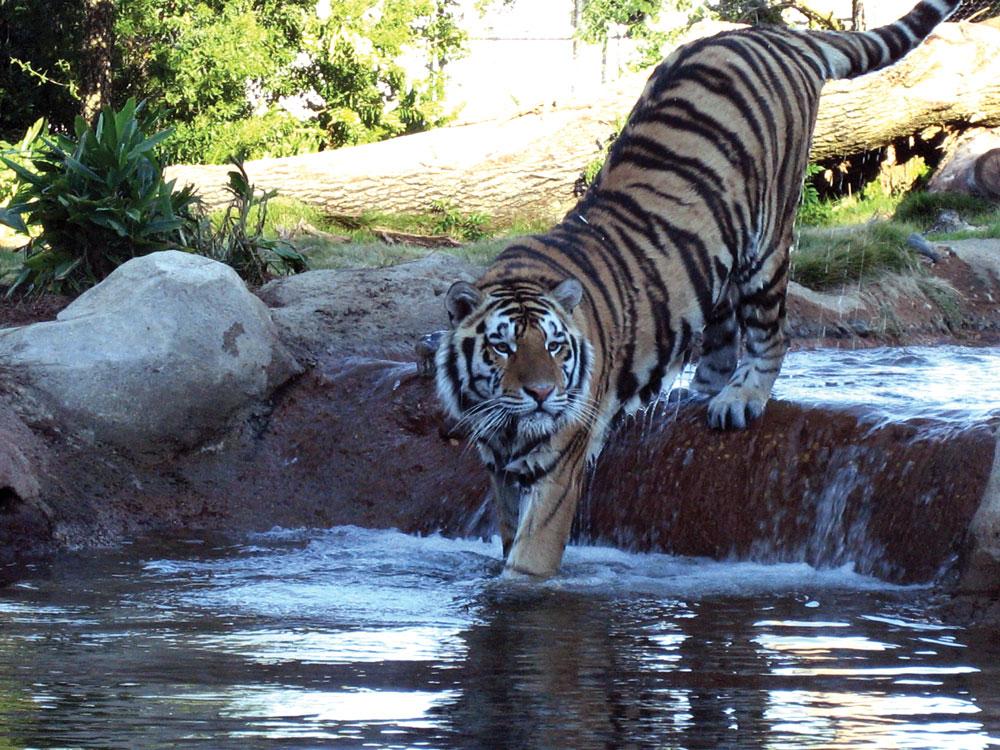 Mike seems like a rather tame name for a Bengal tiger, but that's the name LSU has affixed to its live tiger mascots since 1936. Mike's current representation, a ten-year-old tiger from Indiana, is LSU's largest so far, topping the scales at 500 pounds. Mike is taken care of by LSU students and faculty, and he lives in his own enclosure right next to Tiger Stadium.
During home football games, Mike's trailer cage is parked right in front of the opposing team's locker rooms so opponents have to walk past him in order to get to the field.
3. Leo and Una from the University of North Alabama
LSU may have a big cat, but the University of North Alabama upped the game by having two. Leo and Una are sibling African lions who represent the UNA Lions. Though they don't appear at any sporting events, they can be seen at their on-campus residence next door to the university president's house.
The tradition began in 1974 when then-university president Dr. Robert M. Guillot bought a lion cub and kept him on campus. Since then, the school has maintained a 12,000 foot habitat for the lions to live in.
Fans of UNA can see the lions at anytime during the day on a live webcam.
2. Ralphie from the University of Colorado Boulder
There are few live mascots more intimidating than CU Boulder's Ralphie. A massive, 500-pound live buffalo who bursts out of a gate to lead the football team out on the field, Ralphie has become a recognizable mascot around the nation. In one of the college's unique traditions, Ralphie is led around the field at top speed from end zone to end zone, and then returned to the safety of her trailer.
Though commonly mistaken as a male, all five Ralphies in school history have actually been female. Since her first run in 1967, Ralphie has become a school mascot staple for CU Boulder.
During the current Ralphie's first run in 2008, she broke free from her harness during her halftime run and led her handlers on a chase. Luckily, the handlers were able to capture her before any damage was done.
1. Cleo and Tarbo from Brigham Young University
In the 1920s, BYU sports coach Eugene L. Roberts suggested the school adopt the cougar as its mascot. He reasoned it was native to Utah and the cougar had the characteristics he wanted his athletes to have while in competition: strength, agility, grace, quickness and beauty.
As a result, the school acquired two live cougar cubs in 1924 for 50 cents each to keep at the school. The cubs were named Cleo and Tarbo and were kept near the south end of campus. But in 1929, the pair managed to break out of their cage, kill two local dogs and attack livestock at local farms. The cubs were captured later that day.
After that incident, BYU elected to remove the cougars from campus. One cougar died soon afterward, and the other was donated to the Salt Lake Zoo.