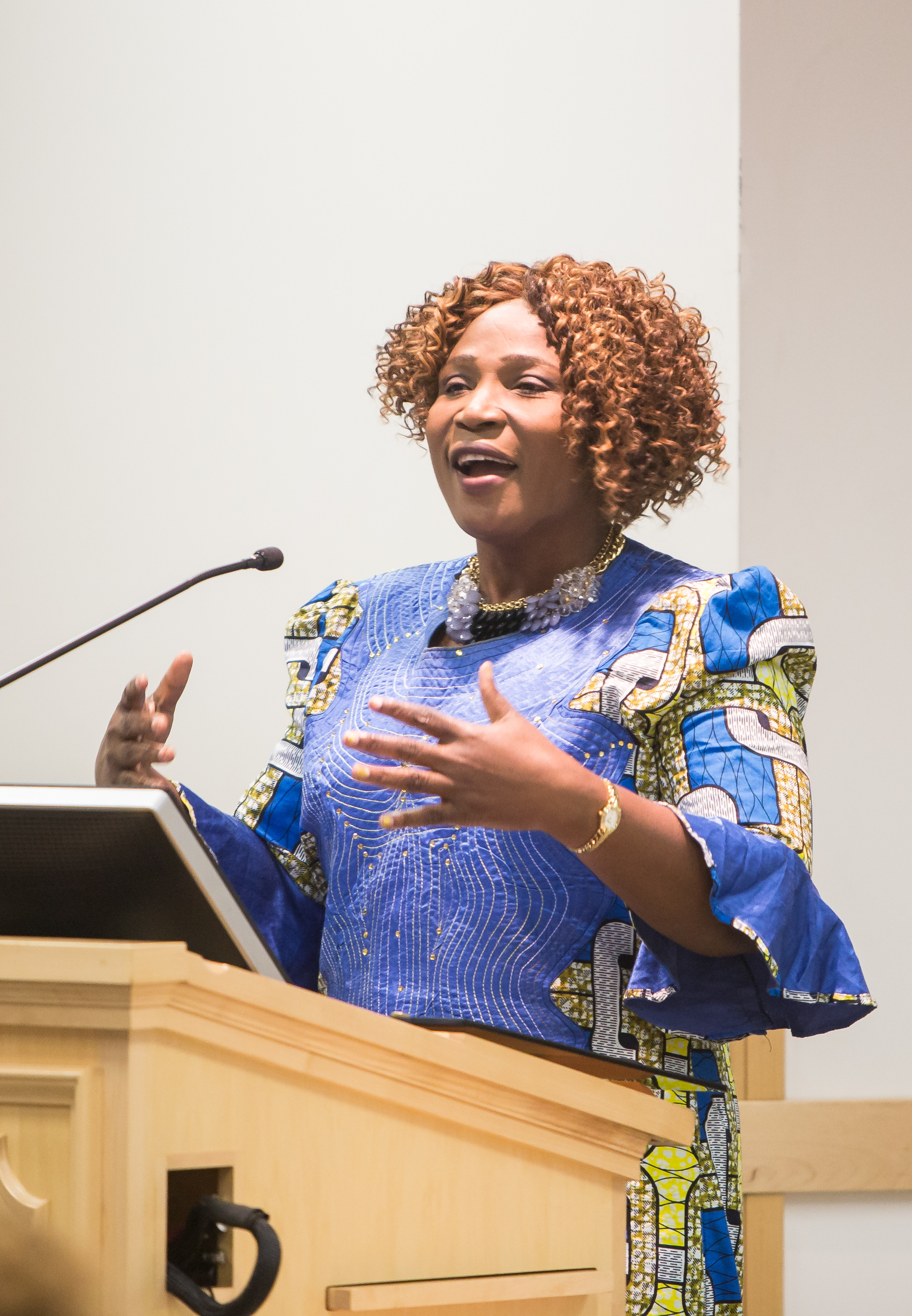 Lina Sarah Wembi, who fled the Congo in 2003 with her nine children after her husband's murder, spoke at BYU in the fall as part of BYU's Writing 150 Refugee Awareness Campaign.
The Congolese native received an associate's degree from Weber State University and is currently pursuing a bachelor's degree in social work.
Wembi told the audience the story of how she became a refugee. Her husband was serving as a military colonel in the Congo when he was murdered.
"There was no one I loved more in the entire world than my husband," Wembi said.
Wembi said she was beaten after her husband's funeral by the men who killed him. The beating left one side of Wembi's face paralyzed. She was in the hospital recovering from facial surgery and the infection that followed when the men who had injured her looted her home and beat her eight children.
The refugee delivered her ninth child prematurely in the hospital. She said after the child was born and she recovered, she took her children to the African country of Cameroon to seek refuge.
"I didn't have a penny, I knew no one, and I was caring for nine children," Wembi said. "Sometimes we would go all day with nothing to eat. But Heavenly Father was guiding me to where I needed to be."
The American Embassy heard about the murder of Wembi's husband in the news and contacted the Congolese government to verify her story. When the U.S. government discovered that Wembi and her children had fled the Congo and were destitute, they worked with Immigration Services to bring her and her nine children to America.
"I guess the government saw my papers said I was LDS, and so they helped me get to Utah where I could be with members of the church," Wembi said.
Wembi came to Ogden, Utah in September 2005.
"I dreamed about America," Wembi said. "When the government told me that I was coming to Utah, I knew that was right."
The Congolese native spoke French, Lingala, Tshiluba, and Kikongo upon her arrival to the U.S. The mother of nine said her ward in Ogden helped her enroll in English classes at Weber State University. Wembi said she struggled with the language, but was eventually able to start college-level classes at the university.
"At first, I didn't speak any English except for 'yes' and 'no,'" Wembi said. "As a refugee, everything, the language, the culture, and the poverty, is different and difficult."
The mother of nine studies social work at Weber State University. Three of her nine children still live at home with her. She currently leads a group of local refugee women who offer support and resources for each other.
"I feel like I'm a born social worker," Wembi said. "I am able to share my story with others and inspire them to never give up."
She said her trials as a refugee only helped her faith grow stronger.
"I have seen Heavenly Father's hand in my life," Wembi said. "I escaped so much, and I know that's because God was walking with me."
Wembi was asked to speak at BYU by Annette Harris, a BYU graduate who works as the social services program supervisor at the Refugee and Immigrant Center in Salt Lake City. The Center provides ESL classes, housing, employment opportunities and youth and family services for Salt Lake City's estimated 50,000 refugees.
Students present at the lecture were encouraged to contact Harris and Wembi to learn more about opportunities to help refugees in Utah.