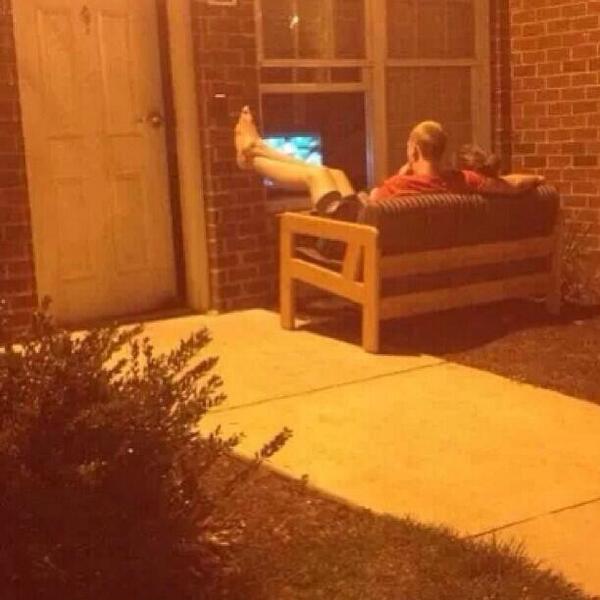 Summer is a time for students to kick back and let most of the BYU rules slide. The absence of classes invite an abundance of beards, short shorts and bro tanks. As students return to school in September, they revert back to the rules to take tests and work on campus. However, there is one rule that remains relatively unenforced, causing many students to disregard it just as often during fall and winter.
That rule is curfew. The image on the left, featured on the spoof BYU Honor Code Twitter page last September, raised several questions about curfew rules. BYU's curfew is part of the BYU Honor Code and commits students to leave apartments of members of the opposite gender at midnight and 1:30 a.m. on Friday nights.
In a survey of 250 BYU students, only 50 percent said they consistently keep curfew. The decision to keep curfew is situational rather than a hard-kept rule for many students. Responses from the survey show the different perspectives BYU students have about curfew.
Speaking up
Students recognize the spiritual benefits of keeping curfew when in one-on-one situations, but they don't follow it as strictly in group settings. Forty-two percent of students would allow guests of the opposite gender to stay past curfew to finish a movie and have their guests leave right afterward. Twenty-eight percent would let them stay for the movie and a little after.
Survey responders like having a curfew in place because it gives them the authority to ask people to leave.
"I'm thankful I have something to use to kick boys out of my house," one female respondent said.
"It's a great way to kick out my annoying roommate's boyfriend," another said.
This mentality creates a double standard. "It's a good thing, but annoying," another student said. "I like that it gave me an excuse to kick out my roommate's boyfriend so he wasn't there constantly, and I liked that I didn't have to deal with boys sleeping over, but it was annoying when I just wanted to finish a conversation."
Despite claiming to use curfew as a way to kick people out of their apartment, many students feel uncomfortable enforcing it. The survey indicated 38 percent wouldn't care if their roommate had someone over past curfew, 30 percent would give them the benefit of the doubt and assume that they'll leave at curfew and 27 percent said they would drop a subtle hint to remind their roommate and their roommate's friend about curfew.
On-campus vs. off-campus
Survey respondents' comments showed most students believe curfew is not and cannot be enforced well. It shows even resident assistants are sometimes hesitant to ask others to keep curfew. One survey respondent commented about the ineffectiveness of curfew regulations after students move off campus.
"It is a great idea, but it is executed poorly," she said. "On campus, the (resident assistants) help to enforce it, but once you're off campus, people pretty much do what they want because no one enforces it."
Parking enforcement is one way apartment complex owners encourage students to follow curfew. Many off-campus apartment complexes allow anyone to park in resident parking during the day, but begin towing or booting unregistered cars before curfew hours begin.
Freshmen living on campus have stricter curfew regulations, especially at Helaman Halls, where guests of the opposite gender are only allowed in the living quarters for a few select hours on Wednesdays and Sundays. Hailey Billat, a 19-year-old sophomore applying to the business management and recreation management program this fall, lived in Helaman Halls during Winter 2013.
"That was a pain, especially during winter because if it's not visiting hours, then there really aren't many places you can hang out if it's too cold to go outside," Billat said.
It could be worse
At BYU—Idaho, students must not only be out of apartments of the opposite gender but must be in their own apartments by midnight Saturday through Thursday and by 1 a.m. on Fridays. Lexee Syddall, a 20-year-old sophomore studying sociology at BYU—Idaho, doesn't agree with this rule and says she "wouldn't mind curfew nearly as much" if she could still be outside after curfew hours. Syddall has friends whose roommates lock them out if they aren't home by curfew.
"I'm not a huge fan of BYU—Idaho's midnight curfew," Syddall said. "I had a more lenient curfew living at home with my parents. I don't think that a curfew is necessary for adults who are living on their own."
Too much control?
Many survey respondents agreed with Syddall's sentiments, commenting about unnecessary use of control.
"It's a little too close to the letter of the law rather than trusting adults to manage themselves," one responder said. "Instead of teaching us how to use our judgement we just turn it into this casual thing about curfew and 'chastity lines' that I think belittles the importance of the whole issue."
A personal choice
While many students don't agree with or follow curfew, they may understand why it is in place. Students will have to decide for themselves if dragging the couch outside is an appropriate way to keep curfew and create their own personal standards based on the curfew established by the Honor Code.